From Director
Honorary Prof. Yoshinori Ohsumi
Q: Why was this research center established?
Members of this research center have already achieved excellent results in their individual fields, and further deepening this individual research will hopefully lead to the discovery of new viewpoints and methods in the field of cell research. The center expects to continuously present high-quality research findings and gain recognition as a world-leading base for the promotion of life sciences research where outstanding researchers and students gather.
Q: What are the strengths of this research center?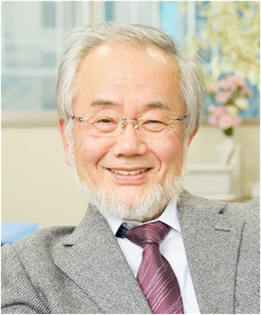 Professionals in the field of cell research exercise their individual strengths to the fullest, achieving new results through collaboration with specialists in different fields. Cutting-edge research equipment, such as confocal microscopy capable of high-resolution imaging and 3D reconstruction, a cell collection system, and an intracellular protein analysis system are available to accelerate research progress. Cooperation with external researchers, the establishment of a consortium, and the creation of new systems of effective collaboration with companies are also being pursued.
Q: What is the path to achieving the center's goals?
The research center aims to become a global base for cell research in the next five to ten years. Each group in the Cell Biology Center is engaged in a wide range of projects. I conduct research on autophagy, a natural process by which cellular components are disassembled in response to starvation. Other members work on the overall characteristics of proteins, the kinetics of nuclear proteins and DNA, and the processes of extracellular protein intake. By utilizing cell control technology achieved through research on fundamental biology, the center will contribute to society by promoting drug discovery and uncovering novel applications in the field of medicine, demonstrating the importance of basic research for the development of science and technology.
Copyright© Cell Biology Center Institute of Innovative Research Tokyo Institute of Technology All Rights Reserved.